Rita1652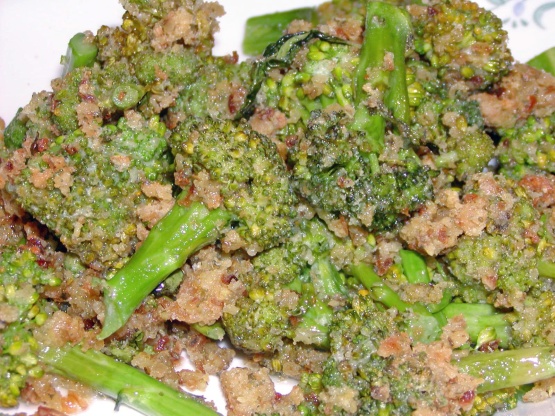 I've been on a quest for recipes that disguise veggies so my kids will eat them! I loved this recipe and my 1 1/2 year old did too when I gave her some sauce to dip it in!

I found this recipe very tender & tasty I don`t know if it`s because I use homemade bread crumbs loaded with herbs and grated cheese. I did micro my garden grown broccoli for 3 minutes with no water. I do think this would be out of this world if you would coat first with flour then dip into egg then breadcrumbs. I did follow the recipe & I found the bread crumbs fell off! So the flour first would help the egg and breadcrumbs adhear! I must say it did disappear before dinner ws served. So it does make a great appetizer!
1

head broccoli, cut in spears

2

eggs, beaten seasoned with
salt and pepper
1 1⁄2 cups Italian seasoned breadcrumbs
oil (for frying)
Cook the broccoli in water until al dente. Drain well.
Dip into egg, then bread crumbs and fry in hot oil until golden brown. Drain.
This can be made ahead of time and kept warm, uncovered, in the oven.