Breaded Baked Parmesan Potatoes
lets.eat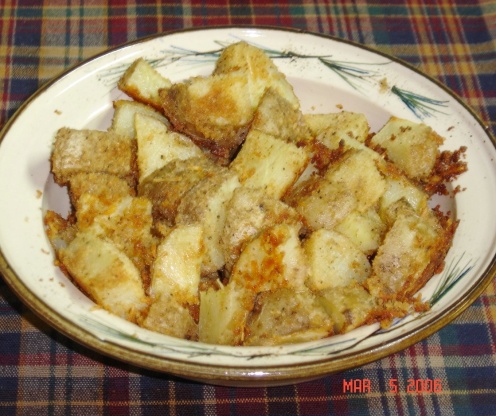 These are so yummy! The potatoes can be cut into large cubes instead of wedges.
Set oven to 400 degrees.
In a shallow dish, place the melted butter.
In another dish, combine all bread crumbs, Parmesan cheese, garlic powder, salt (can use seasoning salt if desired) and black pepper.
Coat the potato wedges in melted butter, then in the bread crumb mixture, making sure to coat completely.
Place on a baking sheet in a single layer, lined with foil and sprayed lightly with a non-stick spray.
Drizzle any remaining butter over the top of the potatoes.
Bake for 30 minutes, or until potatoes are tender.