AZPARZYCH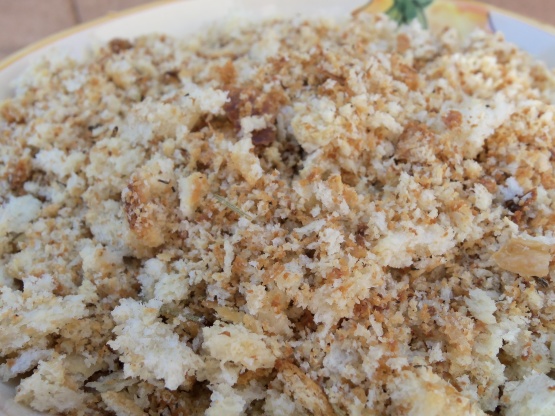 Most of the time (through my entire bread making) I have various bits of loaves of bread that just don't get eaten. I quickly take that last piece of bread right out of Dennis' mouth as he is about to take the biggest bite. I say, "Hey! Wait a minute dear husband, I need those for breadcrumbs!" Andi- they will be breadcrumbs once I swallow the slice of bread." Dennis resounds. "Awwww, honey! I exclaim, They are for the topping to your lima bean gratin. I need them." Once Dennis hands back the bread, I proceed to make some delicious little breadcrumbs that can be used interchangeably to crunch up any meal. I normally have a heel or two left of --Nimz--'s Rustic Country Sourdough Bread left over and this combined with rosemary and thyme make a very flavorful crumb. I use this on a fish fillet, (a mild fish) or a chicken breast, because it brings so much pizazz to the item it is covering.
Preheat a 400°F oven. Dice and chop bread with crusts into 1/2 inch cubes.
Scatter diced bread in a large baking sheet or roasting pan. Add rest of ingredients, tossing everything together with your hands. Bake 11 minutes, or until it is crispy.
Cool at room temperature, and put bread and seasonings in a plastic bag. Roll with a rolling pin, or before putting in plastic bag, use your food processor to mix this up. I personally like the rolling pin method, quicker then dragging the food processor out.
Keep crumbs in sealed bag in fridge up to 1/2 weeks.