Bread Stuffing With Mushrooms and Bacon
twissis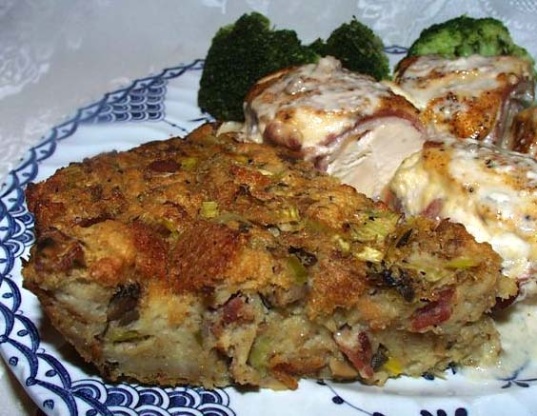 I first made this dressing a few years ago for Thanksgiving, and it is now our traditional dressing.

I made this delicious stuffing to serve w/your Recipe #177699 & DH was quick to say it was his all-time favorite stuffing. I see it as tied w/another of my recipes that uses dried cranberries. I made a half recipe w/only 1 chg when I used ordinary whole wheat sandwich bread. This old dog did learn a cpl new tricks from your recipe: 1) How great bacon is as an add to stuffing & 2) How the use of egg & baking powder betters the texture w/o letting the stuffing get dry as it cooks. I used homemade chicken stock + the salt, but suggest to those who use canned broth & are salt-conscious that they wait to add salt till all else is combined. DH ordered your chicken + this recipe to be the stars of our next dinner party & I will be happy to oblige. Thx for posting this *keeper* recipe for us. :-)
Preheat oven to 325ºF. Spread bread cubes on 2 baking sheets. Bake until bread cubes are dry and crisp, stirring occasionally, about 25 minutes. Transfer bread to large bowl.
Saute bacon in heavy skillet over medium-high heat until brown and crisp. Using slotted spoon, transfer bacon to paper towels and drain.
Pour off all but 1/4 cup drippings from skillet. Add chopped leeks and celery to skillet and saute until tender and beginning to brown, about 10 minutes. Add mushrooms, sage, thyme, salt and pepper and saute until tender, about 10 minutes.
Pour mushroom mixture over bread cubes. Add bacon and toss to blend. Mix in 2 cups broth. (Stuffing can be prepared 1 day ahead. Cover and refrigerate.
Preheat oven to 350ºF. Butter 13x9x2" glass baking dish.
Beat eggs and baking powder in small bowl to blend. Mix eggs into stuffing; moisten stuffing with more broth if stuffing is dry.
Transfer to prepared baking dish. Bake stuffing until cooked through and golden brown on top, about 1 hour.