gailanng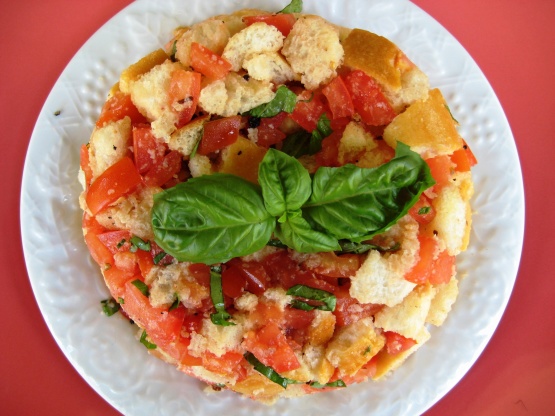 Something different for your next cookout.

When I first saw this recipe, I thought it would be like one of my favorite Middle Eastern salads, Fattoosh. No way! It's better, in a totally different way. Bursting with Mediterranean flavors, this salad is addictive. I used fresh rosemary and also used a healthy splash of balsamic vinegar. The tiny bit that was left over from my BBQ was taken to work the next day, where I had to carefully guard it in the break room. Yo, Richard, this one rocks!
Combine bread, tomatoes and basil in large bowl.
In food processor with metal blade, chop garlic and salt. Add rosemary, hot pepper flakes and vinegar.
Add olive oil in a stream to emulsify.
Toss bread mixture and dressing.
Allow to stand for at least 20 minutes so the bread can absorb the dressing.