Bread Pudding With Warm Bourbon Sauce
Prep 20 mins
Cook 50 mins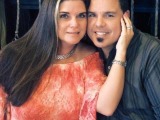 This recipe comes from Bon Appetite, September 1999.
4 large eggs
236.59 ml whole milk
236.59 ml whipping cream
59.14 ml sugar
4.92 ml vanilla extract
0.25 ml salt
946.36 ml cinnamon-raisin bread (day old bread with crusts, cut into 1/2-inch pieces)
118.29 ml pecans, toasted, chopped

Bourbon Sauce

59.14 ml unsalted butter
118.29 ml sugar
44.37 ml whipping cream
29.58 ml Bourbon
0.25 ml salt
Directions
Butter 8-inch square baking dish.
Whisk first 6 ingredients in medium bowl. Place bread and pecans in prepared dish. Pour milk mixture over and let stand 5 minutes.
Push down bread into custard.
Refrigerate 2 hours, pushing bread into custard occasionally.
Preheat oven to 375°F
Place bread pudding in large metal baking pan.
Add enough boiling water to baking pan to come 1 inch up sides of dish with bread pudding.
Bake until pudding is puffed and golden brown on top, approximately 50 minutes. Remove dish with bread pudding from water and cool slightly.
Cut into squares. Serve bread pudding warm with sauce.
To make the bourbon sauce:.
Melt butter in small saucepan over medium heat.
Whisk in remaining ingredients.
Simmer until thickened, whisking often, about 3 minutes.
Cool slightly.
Place some of the sauce on top of a square of bread pudding.
**Cook time does not include refrigeration time of 2 hours.
Reviews
Most Helpful
I have been making this recipe for a number of years. Everyone raves about it. Today I could not find my copy. I was delighted I found it on this sight.