Bread Pudding With Raspberry/Strawberry Topping
Annacia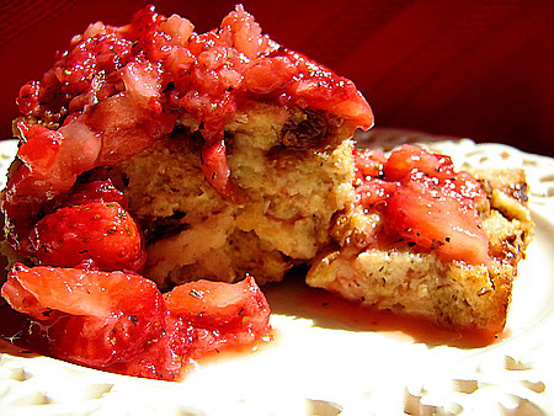 This is a great desert fit to serve any company. The Raspberry/Strawberry Topping is the key to this recipe. From the Hacienda Antigua Bed & Breakfast altered a tad to our liking. Prep time does not include letting the bread set overnight.
This was wonderful and EASY. I used Raspberry and it gave it a great snap. It was nice and creamy. The topping using raspberries was , in my opinion, a better choice than strawberries. I also used Splenda and You could not tell the difference between that and sugar. Thanks for a great recipe.
Blend all of the Custard ingredients together.
Prepare a 9x13 inch pan lightly sprayed with a vegetable oil sray and lined with 1 inch slices of French bread.
Leave the pan of bread (covered but not sealed tightly) overnight to dry on the counter.
In the morning, preheat over to 350 degrees.
Pour the custard over the bread.
Decorate with a scattering of cinnamon powder and bake for 30 to 45 minutes.
For the topping.
Heat the mixture in a sauce pan until it boils. Puree and serve warm over the bread pudding.
Serve with mixed fresh fruit in season.