Bread Pudding With Bananas and Cream Cheese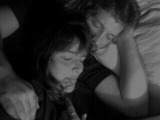 This is just 2bleu good! You make this the night before, and serve for breakfast or brunch.
Directions
Arrange half of bread cubes in a lightly greased 8x8 pan. Sprinkle evenly with cream cheese and bananas. Top with remaining bread cubes.
Whisk together eggs, milk, sugar, butter and maple syrup. Pour over bread mixture, pressing bread cubes to absorb the moisture. Cover and chill for 8 hours.
Preheat oven to 350°F Sprinkle with cinnamon, and bake covered for 30 minutes.
Uncover and bake 30 min more or till lightly browned and set. Let stand a few minutes before serving.
Most Helpful
DH & I are trying to be diet conscious all wk & allow ourselves Sat as the day we indulge in things outside the diet plan. I made half of your recipe in a rd Pyrex baking dish w/a lid as written, but I altered the prep slightly. I wanted to evenly distribute the cream cheese in the dish, so I softened it & whisked it into the egg & milk mixture. For the most part DH is not very fond of sweet dishes for breakfast, mostly because they freq use tart berries & require a lot of sugar. This dish benefits from using less sugar than most & gets its sweetness from the natural banana sweetness & the sml amt of maple syrup. This combo w/the use of cream cheese gives it a mellow richness & reduces the guilt factor. This was so easy to fix & such a treat for our Sat brunch! I was so impatient to get it in the oven this morning that I forgot to dust the top w/the cinnamon. :-( Thx for sharing this sure to be repeated keeper w/us.

Although I usually use a whole grain bread for bread puddings, this time around I actually had enough French bread that wasn't quite fresh, so used that & we were happily satisfied with the result! Loved the banana & cream cheese combo & will certainly make this pudding again! This is now in my keeper file! Thanks for sharing it! [Tagged & made in Please Review My Recipe]
Delicious. Loved the cinnamon and maple syrup in this bread and butter pudding: a great blend of flavours. The cinnamon prompted me to add one thinly sliced Granny Smith apple in with the bananas. I halved the sugar (and that was just the right sweetness for us). In view of Maito's trouble with the mixture sticking to the covering in the earlier part of the cooking, I domed some kitchen foil - and there was no problem. Great everyday dish and certainly good enough to serve to guests, maybe with a dash of rum? This would also taste great made with raisin bread. And it would be so very easy to double if you were feeding a crowd. Thanks for sharing another super recipe, 2Bleu. Made for PRMR.