Bread Pudding With Apples, Pecans and Raisins
loof751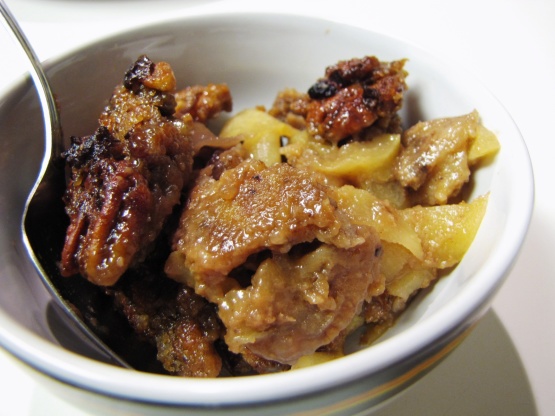 Got this recipe from the Panera Bread web site. I love bread pudding and always looking for great recipes. I haven't made it yet but wanted to store it here.

This certainly wasn't the kind of bread pudding I'm used to, but that didn't detract from it's great taste! I did substitute 3/4 of a 1-pound loaf of nutty, whole grain bread for the cinnamon swirl kind, then added 2 teaspoons of ground cinnamon & a cup of dark raisins to help make up for the intended bread's flavor! Also used a blackberry jam! Absolutely wonderful combo of flavors! Thanks for sharing the recipe! [Made & reviewed during this Spring's Pick A Chef event]
Preheat oven to 400 degrees.
Melt the butter in a medium saucepan over medium heat.
Add the bread and cook for 2 to 3 minutes, or until well coated.
Add the sugar, pecans, orange zest and juice, cider, and vanilla extract.
Cook an additional 2 to 3 minutes until a sauce begins to form.
In a 9 x 13-inch baking dish, layer the bread mixture with the apples and dot the top with the jam or jelly.
Bake 30 to 40 minutes, or until bubbly.