Bread Pudding W/ Whiskey Sauce
Ackman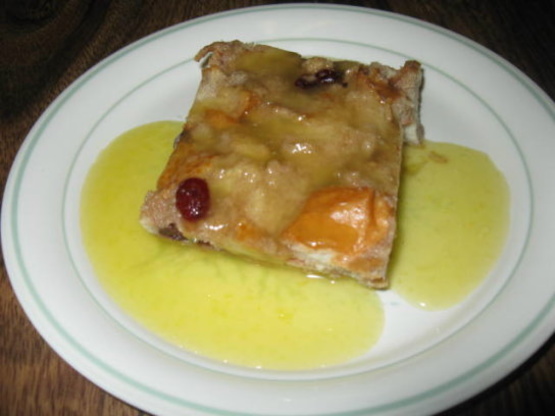 I've loved Bread Pudding since I was a little boy! I don't believe there's such a thing as BAD Bread Pudding, but I DO believe this is perhaps the BEST I've ever had...hope it's yours, too! This is VERY rich & is best served warm w/ warm sauce. I suppose you could substitute vanilla or almond extract for the whiskey, but I've never done it.
For the pudding:.
Preheat oven to 350°.
Tear the french bread into small pieces, a little bigger than a quarter, into a large bowl.
Combine the chopped dates & the milk with the bread & let stand for 15 minutes, stirring often.
Beat together the remaining ingredients until well blended & gently stir into the bread mixture, until well blended.
Put into a lightly greased 9 X 9 pan.
Bake for 40-50 minutes or until a knife, inserted into the center, comes out clean.
For the whiskey sauce:.
Melt the butter in a small saucepan.
Stir in the sugar, egg yolk & water.
Stir constantly on medium heat until sugar is dissolved & sauce has thickened.
Remove from heat & stir in the whiskey.
ENJOY!