k2oneal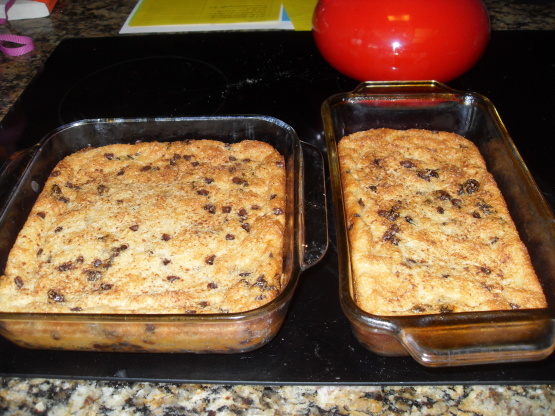 This is my favorite bread pudding recipe. It always turns out great! Some reviewers have stated that the type of bread or size of baking dish is not specified. That is on purpose and is the beauty of this recipe! You can use any kind of bread you have on hand. You can use various sized pans for this recipe, depending on how thick you want the finished pudding to be. I've used a large square casserole dish, or a lasagna pan at times. The baking time may vary depending on the size of the dish you use, so adjust accordingly. Store leftovers covered in the refrigerator. Cold bread pudding is great for breakfast!

This was very quick and simple to put together and made a very tasty desert.... I substituted 2 cups of splenda for the 2 cups of sugar and it worked beautifully, would be great served with vanilla icecream, will be making again.... thankyou
Tear bread into tiny pieces in a large bowl.
Add the milk, eggs, vanilla, sugar, and raisins and mix well.
Let the mixture sit for a little while, so the milk is absorbed.
Grease your baking dish will all 3 tablespoons of the butter. You will have large pieces of butter in the pan, that is OK.
Pour the pudding into the greased pan and bake at 350 deg. F. for one hour or until firm and brown on the edges.