Bread Machine Swedish Coffee Bread
IngridH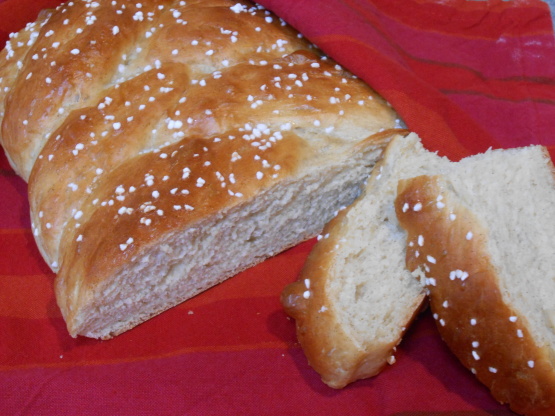 Mama Stace says, "This is a delicious Swedish coffee bread recipe converted for use with a bread maker! My family is Swedish, and ever year we make this recipe just in time for Christmas. We always enjoy it especially on Christmas morning. We used to make a long, drawn out version that was my great-grandmother's recipe, but thanks to modern conveniences like the bread maker it takes much less time and work! I hope your family enjoys this as much as mine has." From allrecipes.com.

Oh, my! This is wonderful bread, perfect for enjoying with that late morning cup of coffee that we Swedes always seem to need. It is sweet, but not too sweet, and the spicy flavor of the cardamom is very pronounced- exactly what I remember from enjoying this bread as a child. The only suggestion I would make is to change the two egg whites to one; one was plenty to give a nice glaze to all of the nooks and crannies on the top and sides of the braid and hold the pearl sugar in place.
Place ingredients in the pan of the bread machine in the order recommended by the manufacturer. Select dough cycle; press Start.
When the dough cycle has finished, divide into three equal portions. Roll each piece into a rope 12 to 14 inches long. Lay the three ropes side by side, then braid together. Tuck the ends underneath, and place onto a greased baking sheet, cover loosely with a towel, and allow to rise until doubled in bulk.
Preheat oven to 375 degrees F (190 degrees C).
Brush the braid with beaten egg white and sprinkle with pearl sugar. Bake in preheated oven until golden brown, 20 to 25 minutes.