Bread Machine Sesame French Bread
najwa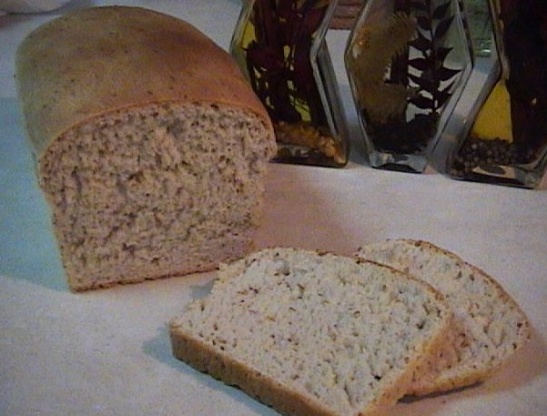 I make this bread often, especially when I want a bread that has a bit more body than a white bread, but not as rustic as a traditional French bread. I think the sesame seeds give it a really nice flavor. It makes about a 1 1/4 lb. loaf. Unfortunately, I can't remember where on the web I found this.

Top Review by Sally
BRAVO! Even I, doomed at bread making (unless I use the bread machine) managed this one. Followed recipe exactly, used pre toasted sesame seeds. Came out just as shown and expected. I will double the recipe next time tho as it made a very small loaf (set my machine to 1.5 lbs). Thank you for a tasty easy one!
7

ounces warm water (14 tbs.)
2 3⁄4-3 cups bread flour

2

teaspoons sugar

1

teaspoon salt

2

teaspoons yeast

2

tablespoons sesame seeds (toast lightly before adding if desired for a slightly more intense flavor, but it's good either way)
Place all the ingredients into the bread machine according to manufacturer's directions.
Bake using french bread cycle if your machine has it.
If not, use the dark crust white cycle.
Start with 2 3/4 cups flour, you might need more depending on a lot of factors.
My favorite way to get the texture I like is about 10 minutes into the knead cycle I will pinch a good size chunk of dough between my thumb and two or three fingers.
If it feels just moist and some dough sticks to my fingers, it's just right.
If no dough sticks, it's a bit dry and add a few teaspoons of water.
If it feels too soft and very sticky, add more flour until you get the right consistency after about another 5 minutes of kneading.