Bread Machine Pizza Dough
Menta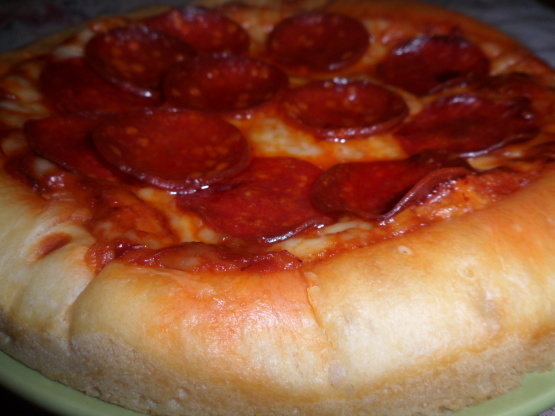 I found this recipe on mealsforyou.com and tweaked it a little bit to suit our tastes. I love the addition of the olive oil to the dough. Highly reccommend this one! I hope you like it, too!(prep time does not include time in bread machine)

Very easy and delicious! Was happy to find a recipe that didn't include sugar. Although I generally avoid white flour, I'm on a mission to replicate a certain Chicago deep dish pizza (since we live too far away to go there weekly!). I used butter as I was out of olive oil, and also because I hoped to have that buttery flavor that Lou Malnati's butter crust has.

I refrigerated the dough for about 24 hours...my husband likes that yeasty, fermented taste to pizza dough, and the cold dough was kind of stiff but I still was able to press it into my cast iron skillet for baking. The end result was a very delicious crust, one I'm sure to make again. I don't think I'll refrigerate it quite as long next time, it was a bit too yeasty for my taste and not as tender as I'd hoped. Thanks for the recipe, it's definitely a keeper!
Add ingredients in the order reccommended for your bread machine and set to dough cycle.
After it's finished, transfer dough to lightly oiled pan.
For a thick crust, cover and allow to rise for about 20 minutes; for thin, bake right away.
Heap with toppings of your choice and bake in 450F oven for about 20 minutes (I sometimes put the crust in for about 5 minutes before adding toppings to speed it up a little bit and to prevent a soggy crust).
Enjoy!