Bread Machine Monkey Pull Aparts
bailey46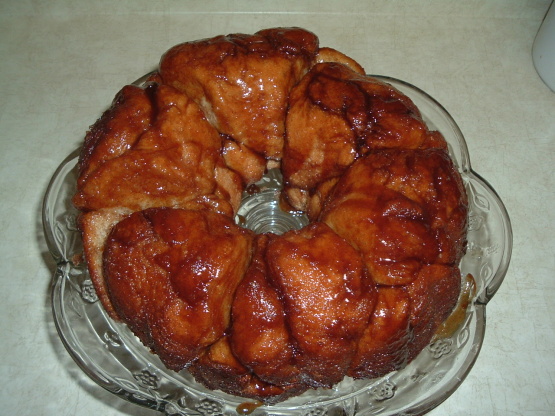 I love to have the bread maker make my dough. It is foolproof. Shaping and finishing dough is usually not a big chore and the results are wonderful! I am unsure where I got this recipe as it is written in my handwriting but no indication of where it came from.

OMG!!! This is amazing! Wow..what a hit. I've been waiting two years to try this recipie. It just never seemed like the right time to make it. Tonight, I brought it as dessert to our friends place since we were going for dinner. I can't believe the 4 of us devoured it. Even my husband and he usually doesn't take dessert! I followed the recipie exactly and it was perfect. I made sure to soften the butter (otherwise it won't mix into the dough well), and I cut into about 22 pieces. I think I'll go 24 next time, although this size was pretty good. Keep in mind, the more butter that's on them when you dip, the more likey you're cake might fall apart into pieces when you take it out. Also, when layering the pieces, do it igloo style so that it hold's it's structure better and can be pulled apart. I drizzled the cake with icing sugar/milk glaze. This cake was so fun to eat, and tasted even better, I can't wait to make it again. I got home around 11pm, and if I had more brown sugar, i think I'd be baking another cake right now! Update: I have made this cake about 5 times or more in the past 2 1/2 months! EVERY TIME IT IS A HUGE HIT! It tastes amazing and it so fun.
Add ingredients to your bread maker, according to manufacturer's instructions.
Process on Dough Cycle.
Remove dough from machine at end of dough cycle.
Using glaze ingredients, Grease tube pan with 2 T butter.
Sprinkle pan with 2 T brown sugar.
Mix remaining brown sugar and cinnamon.
Melt remaining 4 T butter.
Divide dough into 12 pieces.
Roll in melted butter then into brown sugar and cinnamon.
Arrange dough in layers.
Let rise in warm place 30 minutes or until doubled.
Preheat oven to 350*.
Bake 25-30 minutes.
Turn out of pan immediately.