Bread Machine Italian Easter Bread
furnone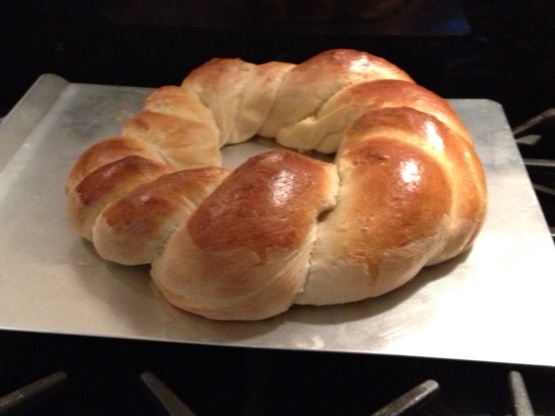 This is a modified Italian Easter bread made with a bread machine. Saves time, kneading, etc. The same ingredients are used but simplified by using a bread machine. This was a recipe handed down by my grandmother.

I have been looking for a recipe like this since I got my bread machine. I have diffculty raising bread, unless my mother was around, and she wouldl magically stand there beside me doing her novinas. But she has now has passed and I am unable to raise bread. However, when I used this recipe; WOW! The bread came out perfect!!!! Thank you for sharing.
Add in order given above to bread machine. Process for dough cycle. Roll and shape into braided rings. Let rise. Bake at 340 degrees for approximately 20-25 minutes.
This bread can also have colored raw eggs put in the braids before baking. They will cook to hard boiled egg stage. After baking, cool and frost with 2 cups powdered sugar mixed with approximately 1/4 cup milk and 1/2 teaspoons vanilla extract, then sprinkle with non-pareils.