Bread Machine Gluten Free Cinnamon, Fruit and Raisin Bread
aguamyst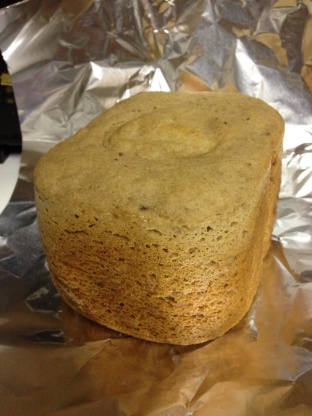 Very ripe bananas or sweetened applesauce give the best flavor and make a moist bread to serve as a snack with tea or for dessert. This bread is also great toasted for breakfast.

This is a truly great tasting and fantastic bread. I was so lonely for good bread, something I could enjoy again and this is the one for me. It is great toasted or just like it is. It is light and fluffy and I made it with bananas. Next I will try with applesauce...I'm so happy to have found this recipe...Thank-you
Add first 4 ingredients to bread machine pan and beat with plastic whisk or fork to mix well. Add rest of ingredients in the order given above. Select rapid or basic white cycle (approximately 2 to 3 hours.).
After 5 minutes of mixing, scrape down sides of pan with a rubber spatula. When bread is baked, remove from pan and cool on rack.
TIP: Replace 1/4 cup raisins with 1/4 cup chopped nuts.
If you use instant yeast, add 1 teaspoons white vinegar or cider vinegar.
Try this recipe on a super express cycle (1 to 1 1/4 hours).
Do not substitute potato flour for potato starch.
Easy Bread Machine Baking.