Dine Dish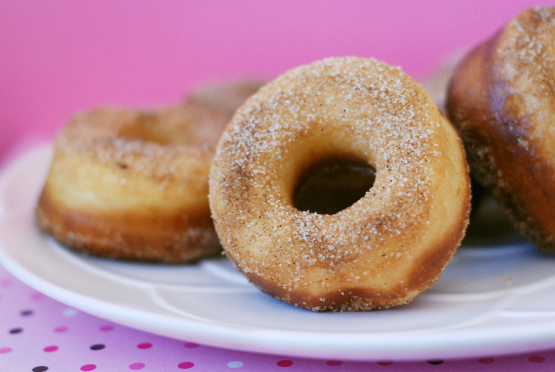 An easy recipe for homemade doughnuts. The original recipe says you will get 2 dozen doughnuts cut from the dough but I have never been able to get more than 1 dozen. I usually just sprinkle hot doughnuts with a mixture of cinnamon and sugar -- we can't wait for a glaze! These are light and airy and delicious.

Growing up, my mom used the canned biscuit dough to make "homemade" donuts. Living overseas, we can't get that sort of dough, so I've had to learn how to "really" cook. I was thrilled to find a bread machine recipe to try and they came out great! I don't have a true donut cutter, so I had to use a small plastic cup turned upside down to cut the donut and then a twist top from a bottle of soda to make the middle hole. I was able to get 32 donuts from this recipe, but will probably use a larger cup next time. I baked 1/2 the recipe and fried the rest. If watching calories, the baked were good, but the fried were definitely tasier (surprised?). I used Kittencal's Easy Bakery-Style Donut Glaze (#179685) for a quick glaze. This made the donuts even better, and I'll probably continue to experiment with other glazes since there seem to be so many yummy ones on the 'Zaar. Now, cooking notes: After cutting the donuts, I let them rise for 45 minutes (instead of 30). For the baked version, I baked them at 450F, but only had to leave them in for 5 minutes.
Measure ingredients into your ABM baking pan.
Select dough setting and start machine.
Roll finished dough to 1/2 inch thick. Cut with a 2-1/2 inch donut cutter.
Let rise, covered, 30 minutes or until doubled.
Deep fry in fat at 375 degrees.
Turn doughnuts as they rise to the surface. Fry until brown on both sides.
Drain on absorbent paper towels. Either glaze or dust with powdered sugar.