Bread Machine Dinner Rolls
WiGal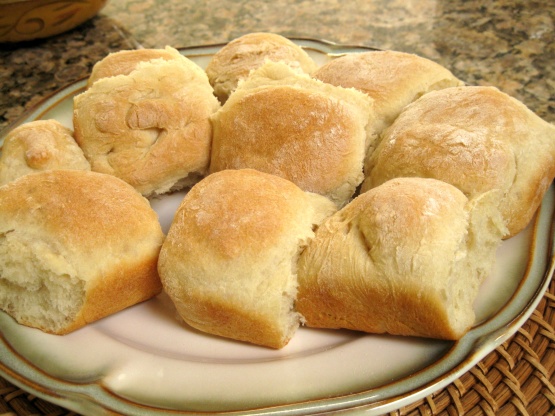 From the Black & Decker Bread Machine. For Canada, it says to use 4 1/3 cup white flour. And USA 4 1/2 cups. I've always use 4 1/3 cup all purpose flour for this recipe.

These are perfect dinner rolls. I made 12 rolls and used a 13 x 9 Pyrex pan. I added an extra 1/4 cup of flour because I noticed the dough was very sticky in the machine while it was mixing. After rising in the machine it was still a bit sticky so I oiled my hands to shape the dough. After about a 30 minute rise, I baked at 350* for 25 minutes and they were perfect. Thanks for a great and easy recipe!!
Measure ingredients in the order listed into Baking Pan.
Select Dough.
When cycle is complete remove dough from machine to a lightly floured surface. If necessary, knead in enough flour to make dough easy to handle. Divide dough into 12-18 pieces. Shape each piece into a smooth ball. Place balls, almost touching in two greased 8 inch square cake pans; cover and let rise for 30 minutes or until almost double in volume. Brush with glaze. Bake in 350 F (177 c) oven for 20-25 minutes or until golden brown and bottom sounds hollow when tapped. Remove from pans and let cool on wire racks.
This recipe can be formed into cloverleaf, crescents, parker-house or bread sticks.