Menta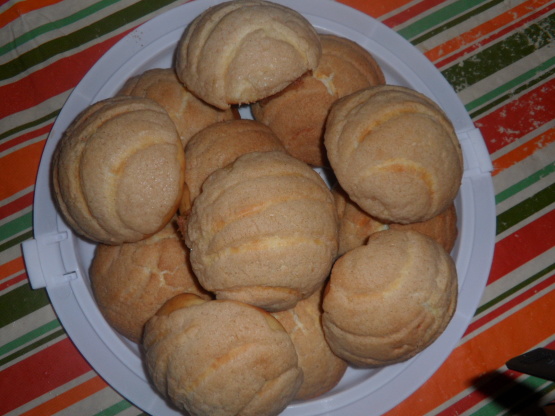 I adapted this recipe for a bread machine from a recipe that I found on your site.

I'm so delighted to find a bread machine recipe for concahs! I'm going to be making these this weekend, but wanted to comment with a clarification right away (having just looked at the other recipe for conchas on 'Zaar), because the writing of the recipe can be confusing. The recipe needs to specify that the last four ingredients (butter through vanilla) are the topping, and are not to be added into the bread machine. Also, since the conchas are already shaped into 12 balls (in step 1), you do not need to do this again in step 3; that's just a typo. Thanks for sharing what looks to be a wonderful recipe, and thank you for taking the time to convert it to a bread machine version! :)
Place ingredients in the bread machine in the order listed. After completion of the dough cycle, shape dough into 12 balls and place 2" apart on greased cookie sheets. Cover and let rise until double — about 45 to 60 minutes.
Meanwhile, prepare Flavored Topping Mix.
Beat sugar and butter until light and fluffy. Stir in flour until mixture is the consistency of thick paste. Stir in cinnamon and vanilla extract. Divide mix into 12 equal pieces. Pat each piece into a 3-inch circle.
Place 1 circle of topping mix on each ball of dough, gently shaping it down over the ball. Make 5 or 6 cuts across the topping, using a table knife, to form a shell pattern.
Heat oven to 375 degrees F (190 celsius). Bake buns until golden brown, about 15 to 20 minutes.