Bread Machine Cinnamon-Pecan Buns
Katzen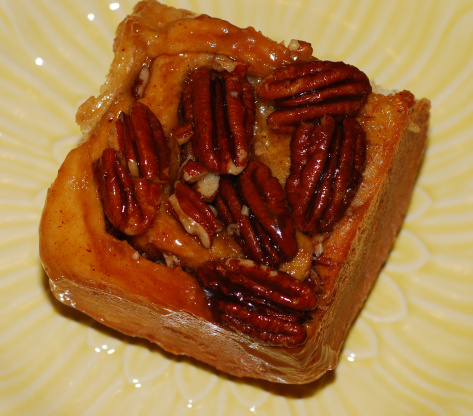 This recipe was shared by a "chef" on another web site. A real family pleaser made much easier with the bread machine. The prep time below includes bread machine and rising time. With all those wonderful pecans, this has to be a Southern U.S. recipe.

i need to change my review! These buns really are the best!! i used the brown sugar instead of white for the syrup and it turned out PERFECT.( i was also careful to only boil for a minute, i think i boiled to long the first time, and that made the syrup go hard.) I might make a little more for this next batch, because its just so good! I have been putting rasins inside, rolling it up and putting it in the fridge overinght to rise. the rasins are nice and soft from sitting in the dough all night, and in the morning i just pop them in the oven for my family for breakfast. What a treat!!!
Measure first 8 ingredients into bread machine (refer to your bread machine instructions for the proper order- my machine would require the order listed here).
Select the dough cycle.
Meanwhile, prepare syrup.
Boil together butter, water and brown sugar for 1 minute.
Immediately, pour into a 9 X 13 pan; tilt pan to cover bottom evenly.
Arrange pecans, flat side up on syrup.
When cycle is complete, remove dough from machine to a lightly floured surface.
If necessary, knead in enough flour to make dough easy to handle.
Roll dough into a 12 X 18 inch rectangle.
Brush with melted butter.
Sprinkle evenly with a mixture of brown sugar and ground cinnamon.
Sprinkle chopped pecans on top.
Starting at large side, roll up jelly-roll fashion.
Pinch edge to seal.
Cut roll into 12 equal pieces.
Place over syrup.
Cover and let rise 30 minutes or until double in volume.
Remove cover.
Bake at 375 for 35 minutes.
Loosen edges and invert onto serving tray.