Bread Machine Chocolate Sticky Buns
slkmom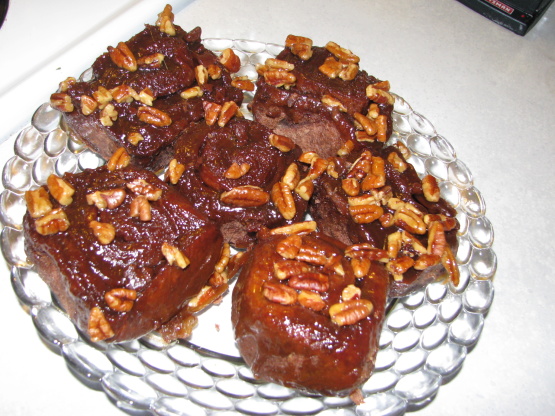 This is a Betty Crocker recipe that I have been wanting to try. My DH is not a big sweet or breakfast eater, so I am waiting for someone to come visit us....thus giving me an excuse to make these (and not have them go to waste).

I made these for work and they were a big hit. Yummy!!
Place all of the STICY BUN ingredients -except pecan halves and 2 Tbs butter - in bread machine pan according to your manufacturer.
Select the Dough cycle. Do not use delay cycle or timer. When done, remove from pan with lightly floured hands and let rest on a lightly floured surface, covered.
Meanwhile, pour melted butter into ungreased 13x9-inch baking dish. Stir in 1 cup brown sugar and corn syrup. Spread evenly in pan. Sprinkle with pecan halves.
Roll or pat out dough into a 15x10-inch rectangle on a lightly floured surface. Spread 2 Tbs. butter over dough.
In a small bowl, mix all of the CHOCOLATE CHIP FILLING ingredients and sprinkle over the butter.
Roll up dough tightly, beginning at the long side; pinch edge of dough into roll to seal. Stretch and shape roll to make it as even as possible.
Cut roll into 15 1 inch slices. Place slightly apaprt in pan. Cover and let rise in warm place about 30 min or until doubled. (Dough is ready when an indentation remains when touched.).
Heat oven to 350ºF. Bake 30-35 min or until dark brown.
Immediately turn pan upside down onto heatproof serving platter. Let pan remain over buns 1 min; remove pan.
Let cool and enjoy!