Bread Machine Buckwheat Bread
Katzen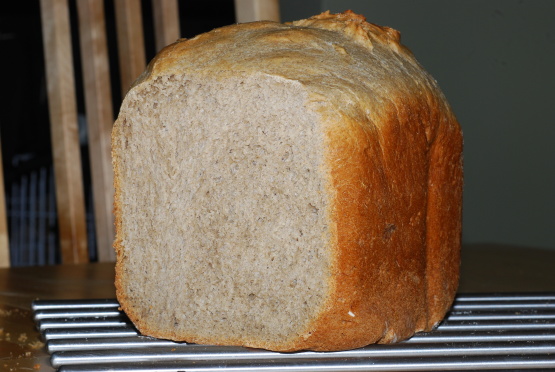 This is a great dinner bread recipe from Madge Rosenberg's cookbook, The Best Bread Machine Cookbook Ever: Ethnic Breads, in the Eastern Europe section. This is for the large 1 1/2 pound loaf. She says, "Buckwheat blini, caviar, and vodka are the classic Russian culinary triangle. Substitute thin slices of buckwheat bread for the blini for an easy, sophisticated first course. If you toast the slices, brush them with melted butter just before serving. Golden caviar and salmon roe are good economical substitutes for imported beluga or sevruga. Small dishes of sour cream, finely chopped hard-cooked egg yolks and egg whites, and minced onion are part of the traditional presentation. For a festive New Year's Eve celebration, switch to Champagne instead of vodka."

Change yeast to 2 tsp. Change sugar to 1 Tbs. Katzen was right. The original recipe will yield a loaf that rises too high. This will result in spill-over, sinking, and possibly uncooked center. I read Katzens review too late for my first loaf, but the second loaf is super-tasty. Thank you Katzen for your input. No more wasted EXPENSIVE buckwheat flour. This is a GREAT tsting, great-textured loaf if one makes the necessary changes to the original recipe. You will not be disappointed.
Add all ingredients in the order recommended by your bread machine manufacturer.
Process on the bread cycle.