Bread Machine Breadsticks
Pamela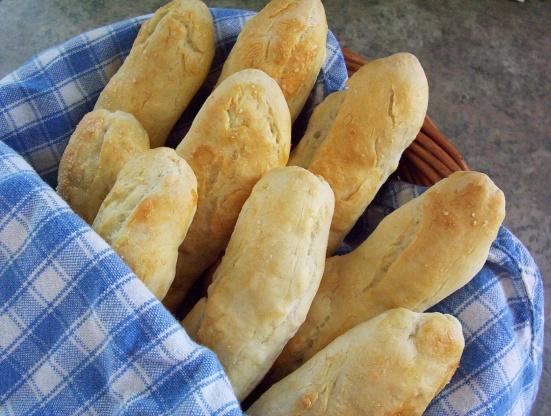 The machine does the hard work and the shaping and baking in the oven is easy with this dough. Add your own toppings like dried onion bits if you like, but I like to top with kosher salt to bake and serve them with a roasted garlic butter. From The Bread Machine Cookbook by Donna Rathwell German.

I made these tonight to go with baked ziti and they were a big hit with my family. I did make a couple minor changes though. In addition to the butter I added slightly less than 1 tbsp of olive oil and then I also let them rise for about 40 minutes, at 20 min they hadn't risen very much for me (probably because my kitchen was a little drafty tonight). When they came out of the oven I lightly brushed them with melted garlic butter and some Parmesan cheese. I will definitely be making these again. Thank you for sharing this recipe.
Add ingredients into your bread machine in the order given, excluding the egg white and water (glaze ingredients).
Start machine on dough cycle.
When the dough is ready turn out onto your countertop. You shouldn't need much flour.
Cut dough into pieces the size of an egg and roll and stretch with your hands into 6 to 8 inch ropes. Place on an ungreased baking sheet.
Cover with a tea towel and let rise 20 minutes.
Mix the egg white and Tbsp water to make a glaze and brush over the breadsticks after they are risen. Add kosher salt, sesame seeds, or other toppings if you like.
Bake at 400 degrees for 12 to 15 minutes until golden brown.
Time includes the 2 hour dough cycle.