Boomette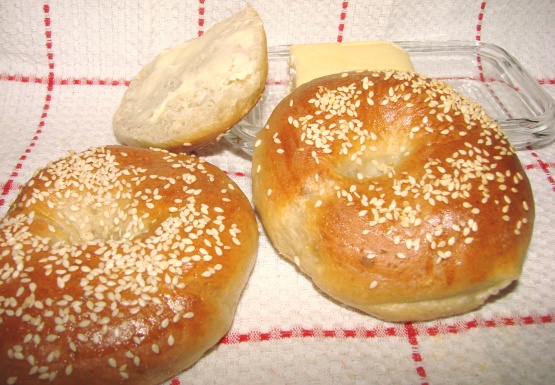 The boys like to help me shape the bagels. We come up with quite a few unusual shapes. These are quick and easy. We toast them and serve them for breakfast with cream cheese.

Finally--homemade bagels that are actually thick enough to slice! These are easy, and very tasty. I sprinkled half of them with poppy seeds and half with minced onion. It's unfortunate that there's no baking time listed. Even though baking times are only a guideline, I could have used that guideline. I had to rely on guesswork, and ended up having to put the bagels back in the oven because they weren't done. I would say somewhere between 30-40 minutes would be right. I also think the water, sugar and cornmeal should have been listed in the ingredients (or near the top since they shouldn't be included in the nutritional analysis). I knew to use them because I've attempted bagels before, and because I read recipes several times before I make the dish, but an inexperienced baker might have problems. But the bagels are excellent; I might try the recipe with a little rye flour next time. Made for 1-2-3 Hits Tag.
Measure first 5 ingredients into bread machine in the order recommended by the manufacturer.
Select dough setting.
When cycle is completed, remove the dough from the machine.
Place dough on a floured surface.
Divide into 10 parts.
Form into balls, gently press thumb through center of ball and slowly stretch into bagel shape.
Place on a greased baking sheet, cover with a damp cloth and set in a warm place to rise.
Bring three quarts of water and one tablespoon of sugar to a rapid boil in a large sauce pan.
Using a slotted spoon, drop 2 to 3 bagels into rapidly boiling water.
Boil on each side for 1 to 2 minutes.
Remove and cool on wire rack 1 minute.
Brush with egg wash and sprinkle with sesame or poppy seeds, if desired.
Bake at 400 degrees on a baking sheet sprinkled with cornmeal until golden.