Bread Machine All-American Beer Bread (1-1/2 Pound Loaf)
Prep 5 mins
Cook 1 hr 30 mins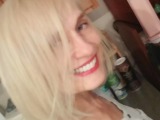 This is based on a recipe from BH&G's cookbook, More Bread Machine Bounty. This makes a 1 1/2 pound loaf in your bread machine.
Directions
Add ingredients to your bread machine in the order recommended by its manufacturer.
Use a basic bread cycle.
Reviews
Most Helpful
This is an excellent beer bread. I used 2 tsp. bread machine yeast. Honey not molasses. It rose beautifully! Thanks for a great recipe! Jelly :)

This was a very easy recipe and turned out GREAT! I didn't have whole wheat flour and used all regular flour and I also upped the yeast (based on an earlier review) to an entire packet (2.25 tsp). This was really quite moist and not horribly dense (I don't like breads that turnout really dense and dryish). This will be a staple in my house now! :)
I used my bread machine to make the dough then moved it to a loaf pan. I let it rise again and baked it at 375 degrees until it was done. Very nice wheat bread with just a touch of sweetness. Made for Recipe Tag.