wizkid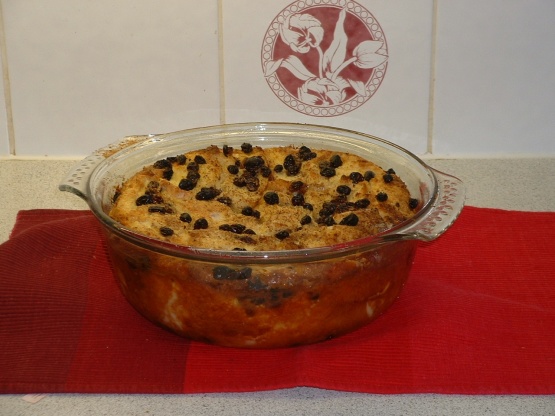 This is one of my favourite puddings, and a favourite of many other people who try it.

this was soo awesome and soooo easy. I omitted raisins as my 6yr old refuses to eat them and i spread raspberry jam on the bread instead. turned out amazing. so smooth and yummy and sweet, just the way i like it!
10

slices stale bread (I often use french sticks and leave the crusts on)

3

ounces butter

3

tablespoons sugar

3

eggs

1

teaspoon vanilla extract

1

pint milk
1⁄4 pint cream

2

teaspoons freshly grated nutmeg
Grease a large ovenproof casserole dish with some of the butter.
Slice the bread and butter it.
Place them in layers in the bowl, sprinkling the fruit on top of each layer.
Whisk the eggs.
Whisk the milk, cream, sugar and vanilla essence.
Combine the eggs and the milk mixture.
pour on top of the bread and fruit and leave to soak for about 2 hours, (until the bread is saturated). If there isn't enough liquid to cover the bread, add more milk and/or cream.
Sprinkle the top with grated nutmeg.
Bake in a medium oven for approximately 1 hour.
The top should be golden brown, and the pudding will rise.
Serve.