wordslinger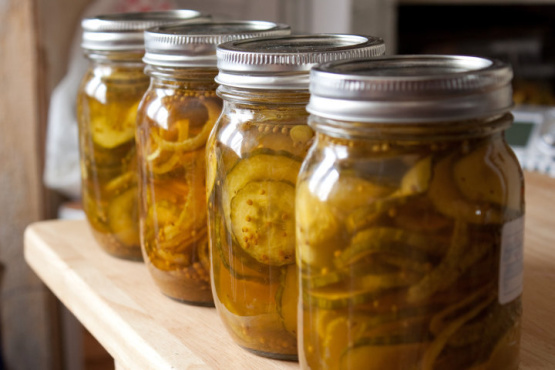 This was my husband's grandmother's recipe. It is so good. Store-bought pickles don't even come close. This is a good recipe for anyone who would like to try pickling, but hasn't done it before. It's quite straight forward, not a lot of ingredients.

This was a great recipe. My girlfriend and I made these pickles on Saturday, and we ate two jars at Sunday supper with the family. Even just a day later, they were great! We also used the same recipe to make a couple jars of relish (same recipe and process, just cubing the cucumbers nice and small and cooking it all down in a pot before canning).

The only problem we had with this recipe was that we were using pint jars instead of quart jars. I anticipated that if this recipe (specifically the brine/syrup of it) would fill 3 quart jars, it should nearly fill 6 pint jars. I had extra cucumbers, enough to fill 8 pint jars, but had to end up making 3 batches of syrup to fill 8 jars. It may be that our 500ml jars here in Canada are slightly different sizes than your imperial pint jars. Or it may be that I didn't pack enough cucumbers into each jar (which would displace the liquid and make it go further). Either way, I'll be making this again (perhaps with some of my own variations, as well). Thanks for the recipe!
Combine cucumbers, onions, salt and ice in a large bowl.
Mix well.
Put a weight on and allow to stand 3 hours. (For a weight, I use a plate with a gallon bottle of vinegar or water on top of it).
Rinse and drain thoroughly.
Combine vinegar, sugar, turmeric, celery seed and mustard seed in a large pot.
Add drained cucumbers.
Place pot on medium low heat.
Bring almost to a boil, but DO NOT ALLOW TO BOIL.
Remove from heat.
Seal in sterilized jars, 10 minutes in a hot water bath.
Easy way to sterilize jars: Wash them well in hot soapy water.
Dry them off.
Put on a cookie sheet, right side up, at 225°F for 15 minutes.
Turn off oven and leave them in there until you need them.