KrispiS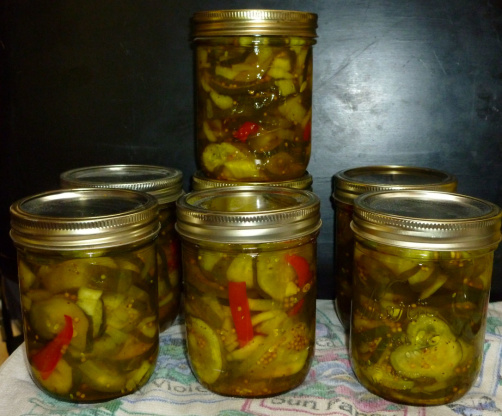 My dad's favorite summer treat Hot water bath canning method

Sifting through B & B pickle recipes before adding my own (like a good little food.com member :), I was amazed to find this word for word copy of ours! This is our stand-by recipe... the only difference: we add pickling spice in place of the mustard & celery seeds, as we like the slightly more complex flavor with the variety of spices found in the pickling spice.
Cover cucumbers with salt and them ice cubes in a large bowl for three hours.
Drain well.
Add onion, peppers, garlic.
Place all other ingredients in large pot and bring to a boil.
Add cucumber mix and bring to second boil.
Place in jars and use water bath to seal - approximately 10 minutes.