twissis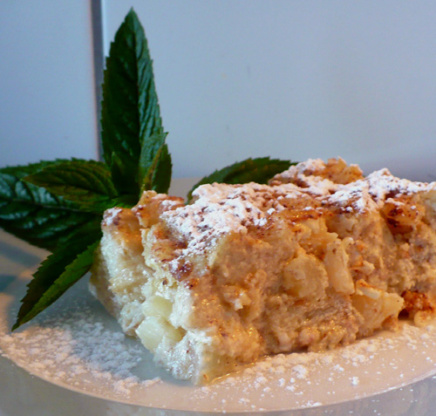 From Sarah Ainley's book, The World's Best Recipes, Caribbean section. "This dessert is a delicious family favorite. A richer version can be made with fresh cream instead of evaporated milk. It can also be made using other dried fruit – mango is particularly good." Cook time does not include the 30 minutes standing time.

Made as written for a fellow Goddess & ZWT-9 -- Our guests tonight were very impressed w/your dessert! This custard is light as air & has the perfect level of sweetness. Since your intro allowed for chg'ing the fruit & DH is diet-restricted from raisins, I opted to use sml bits of well-drained pineapple & the flavor was outstanding! I had to cook it about 10 min more than stated to be comfortable that it was fully set -- A more shallow baking dish may have reduced the cook time or perhaps the pineapple added extra moisture. I dusted it w/powdered sugar & used fresh mint from my SIL's garden as a garnish. Thx for sharing this lovely dessert recipe w/us. :-)
Preheat oven to 350°F.
Lightly butter an ovenproof dish. Butter the bread slices and cut into small pieces.
Lay the buttered bread in several layers in the prepared dish.
In a large bowl, whisk together the evaporated milk and the fresh milk, mixed spice, sugar and eggs. Pour this mixture over the bread and butter. Sprinkle over the raisins and let stand for 30 minutes.
Grate a little nutmeg over the top and bake for 30-40 minutes until the custard is just set and golden. Serve sprinkled with confectioner's sugar.