MarthaRN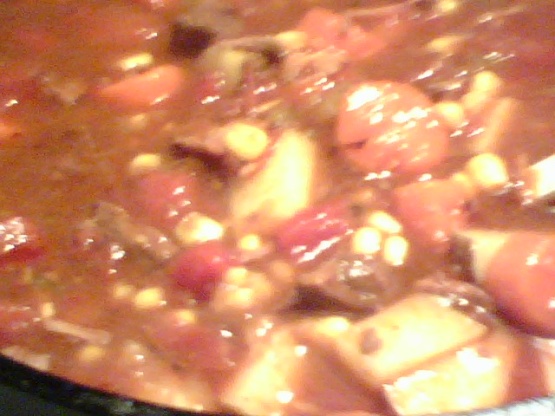 Great stew recipe I found in a wonderful cookbook called Tastes and Tales from Texas. Nothing warms you up better on a cold and dreary evening.

We LOVE this stew. I bought the cookbook over 15 years ago and we make it often. Tonight we used venison and cooked in a pressure cooker (35 min for the meat and 18 min for the veggies). It was perfect! By far our all time favorite receipe!
Fry bacon in a Dutch oven or large stew pot.
Remove bacon and drain on paper towel.
Add stew meat to pan and sear.
Lower heat and add tomatoes, beef broth, water celery, onion, garlic, Worcestershire sauce and chili powder.
Cover and simmer 2 hours.
Remove 1/4 cup broth from stew, cool, and mix with flour.
Add flour mixture to stew.
Salt and pepper as needed.
Add carrots and potatoes and cook 30 minutes.
Add corn and bacon; cook another 5 minutes.