Brazilian Feijoada (Vegetarian)
Linky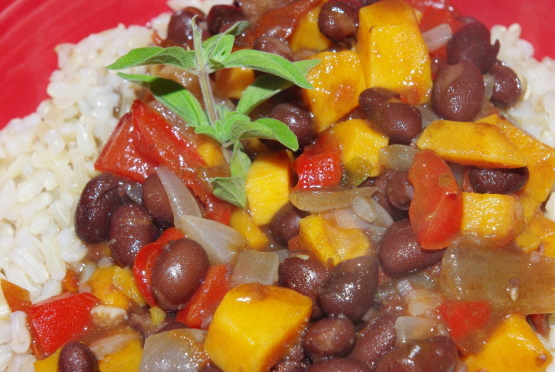 Feijoada is the national dish of Brazil. It's served everywhere in Brazil, from beach-side stands to the finest restaurants. This version captures the spirit of feijoada minus the meat. Chipotle pepper adds a hint of smoky heat.

This was very flavorful and hearty. I made without bell peppers as they are not my favorite and tossed in a few handfuls of kale that I had around. Thanks for the recipe!
In a medium saucepan, place the beans in plenty of water and cook for about 1 hour, over medium heat, until tender.
Drain and reserve 2 cups of the cooking liquid.
In a large saucepan, heat the oil.
Add the onion, bell peppers, tomato, garlic, and chipotle peppers and saute for 8 to 10 minutes.
Add the beans, cooking liquid, sweet potatoes, and thyme and cook for 25 to 30 minutes over medium heat, stirring occasionally.
Stir in the parsley and salt and cook for 5 to 10 minutes more.
Spoon the rice into bowls and ladle the feijoada over the top.