Rita1652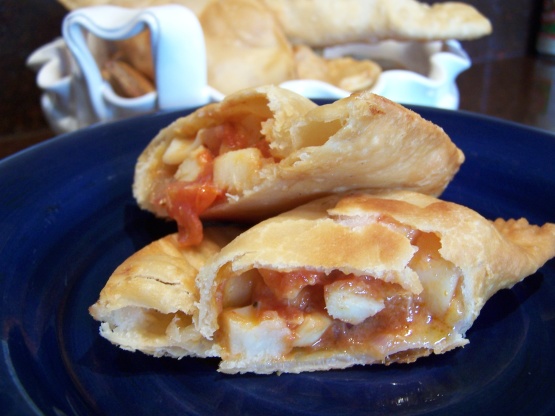 this is not my own personal recipe, i added it for the zaar world tour game and now zaar reps refuse to remove it.

If you don't mind, a correction: they are called "Empadas." Empanadas are a bit different and are not Brazilian. I'll try it and rate afterwards. (I have trouble figuring a good dough for pastel, since AMerican flour is completely different from the Brazilian; my recipes don't work here...)
Sift together the flour, salt, and turmeric.
Work in the butter and shortening until it has a cornmeal-like consistency.
Add the egg and the beer, and work until incorporated.
Cover with a wet towel, and rest for 15 minutes.
Meanwhile, saute the onion, tomatoes, and hearts of palm in butter for 2 to 3 minutes, until soft.
Deglaze with the sherry.
Add the tomato paste and cook for 1 minute.
Add shrimp and cook for 2 minutes.
Season with salt and pepper. Let cool to room temperature.
Preheat oil to 350°F.
Roll dough into 1-inch balls and flatten into rounds approximately 3-inches in diameter.
Spoon 1 tablespoon of stuffing onto each round, fold the dough in half, brush edges with egg yolk, and pinch to seal.
Fry the empanadas for 4 minutes.