Brazilian Court Orange Butter
twissis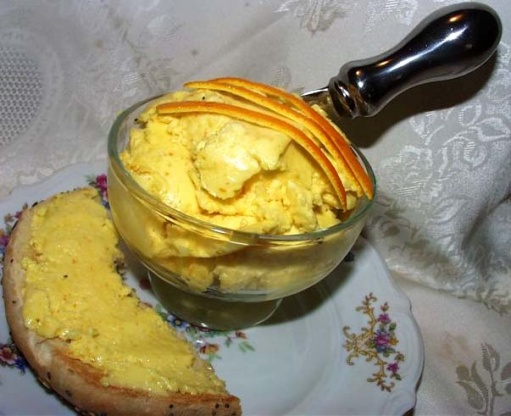 A Sunday morning luxury, yum! Goes well with warm croissants, toast or as a spread for crepes, pancakes or bagels. From Executive Chef Claude Millien, Brazilian Court, in Palm Beach, Florida. Found on the www.ButterBell.com web site.

This is 1 of my PAC choice recipes & it deserves however many stars there are in a galaxy! This truly awesome flavored butter is simply that spec & I hope everyone reads my review & makes your recipe. It does not mix well by hand, but is easy using an immersion blender to emulsify the ingredients & I suggest overnite refrigeration b4 use. It took me only a few min to make & I expect to get a lifetime of pleasure from those few min. I will use it for French toast & scones + the uses you suggested. *KUDOS to you* for sharing this outstanding recipe w/us. :-) Edited to Add: Forgot to say I did use the opt Grand Marnier & see that as a must for adult fare, but I bet it is good w/o it for kids too. :-)
118.29

ml unsalted butter, softened (1 stick)

9.85

ml sugar

56.69

g orange juice (Juice from one medium sized orange)

29.58

ml Grand Marnier, orange liquor (optional)
Blanch the zest of the orange and lemon, then chop finely.
Mix all ingredients together until well-combined.
Chill, if desired.