This is a recipe that I've had forever and is still an oldie but goodie. You can find this in the cold cuts section of your grocery. It definitely has it's own distinct taste and is described as a smoked liverwurst. Serve with crackers. Serving size is a total guess.
Directions
Mix all together with a hand mixer.
Chill.
Most Helpful
This is so simple, yet so tasty. I did halve the recipe, and it still made A LOT! I served it in a bowl, surrounded with pita chips for dipping, and it was a great success. Thanks for posting this unique recipe. Made for Everyday's a Holiday Tag Game. P. S. As an update, since there was so much of this dip, even though I halved the recipe, that my DBF spread it on rye toast as a sandwich filling. Really good!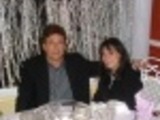 Really awesome. Next time I wanna add it on top of cream cheese and add 1 Tbs of fresh parsley and fresh chopped garlic- minus the onion soup mix. Thank you sooo much for this recipe, I have only met 2 other people who likes braunschweiger too!!!

My mom loves braunschweiger and she enjoyed this dip a lot. Ran a little short on sour cream so I added about two tablespoons of mayonnaise and it worked out great. Thought about adding some chopped green onion but didnt want to take away from the creamy texture of the dip. Will make this again! Made and reviewed for KC's Recipe Tag Game.