CandyTX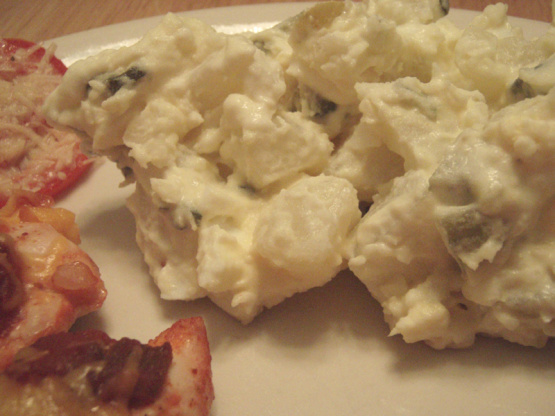 I can call this my recipe for Potato Salad cause in my family I am the only one that can make it and everyone LOVES it. Even the most picky will eat it. It is simple and just good. I am not sure of the number of servings or the prep and cook times. I have made up to 10lbs of potatoes and 2 dozens eggs at a time. A whole jar of dill chips (12oz). A whole jar of mayonnaise (32oz) or more.

No other potatoe salad could EVER get any better than this! I have tried others' off and on, but for the allmost 20 years (December 1, 2002) I have been on this earth, no other could ever compare! Braunda, in my MY opinion, is the most fabulous cook, no matter what the recipe! Anyone & everyone should try it! P.S. I Love You, Momma! :) <!SURPRISE!>
Peel and dice potatoes.
You can also cook them whole it you like.
Then cut them up.
Boil eggs and dice up with your egg cutter.
Drain out most of the juice of the dill cubes.
Add mayonnaise.
Salt and pepper to your taste.
Fold to mix.
You do not want to whip your taters.