Bratwurst Brandenburg Art (Bratwurst Brandenburg Style)
Prep 15 mins
Cook 45 mins
Traditional German recipe from a family friend.
12 bratwursts
2 tablespoons butter
1 1⁄4 cups beer
salt and pepper, to taste
1 tablespoon flour
2 medium onions, peeled and sliced
3 tablespoons parsley, chopped
Directions
Place bratwurst in a saucepan and cover with boiling water. Cook 3 mins; drain.
Melt butter in a skillet; add bratwurst to brown. Remove to a warm plate.
Pour off all except 2 Tbsp fat. Add onions; saute until tender. Return sausages to skillet. Add bay leaves, beer, salt and pepper.
Cook slowly for 15 minutes Add more beer during cooking, if needed.
Remove bratwurst to a warm platter. Mix flour with a little cold water; stir into hot liquid.
Cook, stirring, until liquid is a thick sauce; remove bay leaves. Add parsley; pour over sausage. Serve with mashed potatoes and red cabbage.
Reviews
Most Helpful
This was delicious. I didn't make the full recipe, 4 brats, 1 12 oz bottle of beer, and the rest of the ingredients reduced accordingly. I used corn starch to thicken the sauce. Served with red cabbage and mashed potatoes, just like you told me to. :-D Next time I will make extra for leftovers. Thanks so much for a great dinner!

Very good! my husband loved it & said don`t do a thing differently next time. I cut the recipe in half because I only had six sausages. I did`nt do the flour & water thing, actually I precooked everything earlier & then just put the sausages back in the pan & cooked it all down. I think next time I won`t add the salt though because the sausages have a saltiness to them already, Like I said, my husband just raved on about them and ate four!!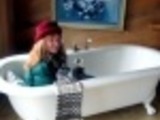 I experienced wonderful flavor bursts with each bite. The brats simmered in Honeymoon summer ale and I used fresh parsley. Served with mashed red potatoes. The yummy gravy went over everything. I will definitly make this every time I am in the mood for bratwurst. Next time I will have sauerkraut as another side for an even more traditional effect.