Laouli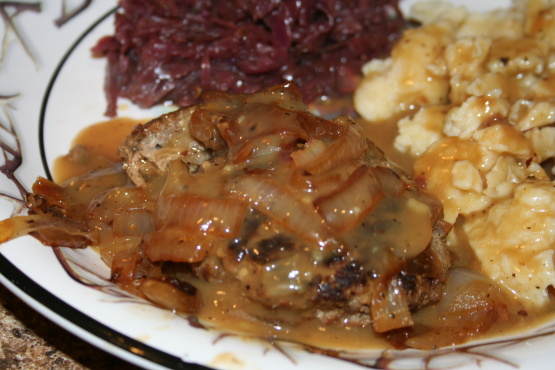 This is my traditional way of making Brats. We use wild game meet brats that is put together by our butcher. I get it ground in packages, and then I make patties out of it. You can also use linked brats jsut the same! We love this with gravy, rice/spaetzle and red cabbage... It is definitely one of our monthly must haves!
This was delicious! I followed the recipe except for the addition of a little (1/2 cup) marinade I had on hand from a previous meal. I used a good dark beer (Yeungling Black & Tan). It took about 20 minutes of boiling after the second addition of beer to reduce but when it did, it was so yummy! Thanks, Laouli, the whole family (kids, parents, & grandpa) loved it!<br/><br/>Made it again last night for a big group. 20 brats (4 pounds), a giant red onion, 6 cloves of garlic, 3 12oz bottles of Beck's Dark. It was so amazing!! I love how the bark beer reduces to a sweet, dark, syrupy sauce. It's so good with the caramelized onions. We served with hoagie rolls, boiled potatoes, and sauerkraut. I wish I could give this more stars. It is a recipe we will come back to again and again!
In a skillet over medium heat Saute the garlic and butter for approx one minute.
Add in the onions, salt, pepper, and enough beer to cover the bottom of the pan.
Cook the onions over medium heat until tender and caremelized.
Remove the onions from the pan and place the bratwurst in the pan. Brown the bratwurst and cook.
Once the bratwurst are cooked add the onions and remaining beer to the pan. Cook over medium heat until the beer has reduced to a thicker sauce with the onions.