Parsley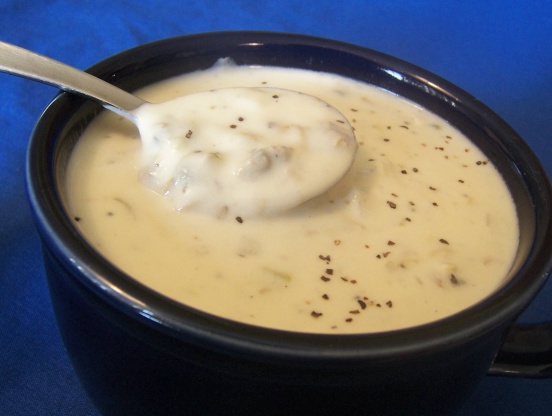 What can I say but an old family favorite and the best we have ever tasted.

How can I not rate this chowder as 5 stars. I must have made a gazillion gallons of this while I worked at Bratton's. We would make it 30 gallons at a time and one of the perks of closing the Restaurant was sharing the chowder left over each night. Every morning the chowder pot was filled with a new batch of chowder. My poor mother though, she started to run out of room in the deepfreeze.

One other secret was the hand ground pepper corns. This was one of the ingredients that added that familiar bite.
Drain juice from Clams over veggies in small pan.
Add enough water to cover and simmer until tender.
Meantime, melt butter, add flour & blend, cook stirring constantly.
Add cream slowly & stir with wire whisk until smooth and thick.
Add undrained veggies, clams & vinegar & heat through.
Season with salt and pepper to taste.