bchoy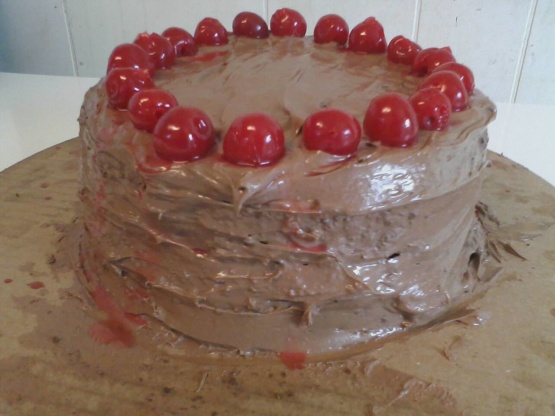 Brats Dr Pepper Cake Brat is after my neice, she loves to make this cake also. This cake is so moist it's almost more pudding than cake. Also, you can replace the Dr Pepper with different flavored soda, and the vanilla pudding and German Chocolate cake with different flavors to make other cakes. For example strawberry soda and straberry cake and pudding mix for a Strawberry Soda Cake. The pudding will thicken the batter so make sure you mix it for about 5 min on med speed. I know it seems like a lot of liquid, but that's what makes the cake so moist. I've tried it, it's great! It's done when a tooth pick inserted in the middle comes out clean.

I made this cake for a birthday party my daughter threw for a good friend. I used lemon cake mix, vanilla pudding and Sprite. The only problem I have with this recipe is that there was too much liquid in the cake batter. Between 4 eggs and 12 ounces of soda, as well as the 2/3 cup of oil, the batter was incredibly runny and did not bake properly. I basically had to toss the cake and start from scratch (no pun intended, considering the use of cake mix). I used the same quantity of ingredients, but this time only using about 1/2-3/4 of a cup of Sprite. I didn't measure exactly, just kept adding the soda from the can until the batter was the right consistency for me. With the exception of that one problem that I had with the recipe, this is a good cake. Since I was going for the lemon flavor, I left the cocoa out of the frosting and added some instant vanilla pudding instead. I will make this cake again, but with my own amendments. Thanks for posting, it's a novel recipe!
Cake: Combine first 3 ingredients, beating with mixer until well blended.
Add eggs, one at a time, beating well after each addition.
Add Dr Pepper, mix well (about 5 min on med to med high speed will thicken that batter).
Pour batter into 3 waxed-paper-lined 9 inch cake pans.
(If you choose cherries, replace 1/4 cup of Dr. Pepper with 1/4 cup cherry juice).
Bake 15 325 degrees for 35 min.
Cool in pans 10 min.
before removing.
Frost when cool.
Frosting:Beat first 5 ingredients until light and fluffy.
(mix in pecans or cherries optional).
or (use cherries or pecans as decoration after cake is frosted).