Bergy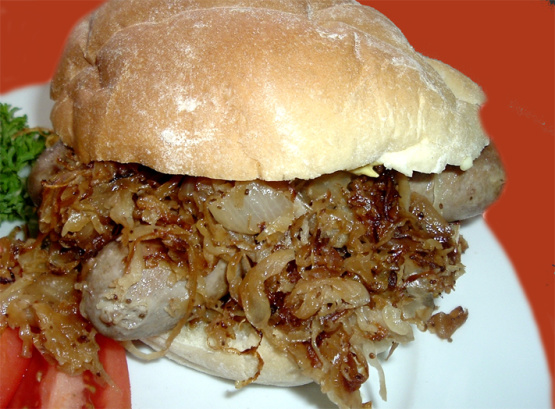 Had this at a farm sell. The sauerkraut on top of the brat was just great! This can easily be made for a large crowd and keep in a roaster.

This was really quite delicious. I currently live in Germany, so I had access to really nice fresh bratwurst and sauerkraut. I did parboil my bratwursts since they were fresh, but if I were using grocery store bratwurst I wouldn't have felt the need - otherwise I followed the recipe to the letter. I thought everything worked out very well and this was a very easy, filling meal to put together. The flavors all blended together so well and the sauerkraut took on a sweet-n-sour taste. I used red onions, which looked gorgeous in the finished dish.
Saute onions in butter.
When the onions are caramelized add garlic, saute for 1 minute.
Add undrained sauerkraut, sugar, celery seed and bay leaf.
Cover and simmer 1/2 hour.
Add meat and simmer for 45 minutes.
Serve on bun and top with sauerkraut.