Branston Pickle and Cheese Sandwich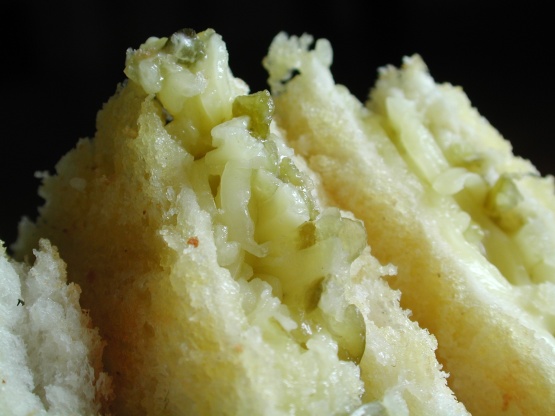 Soo good, I always got this at school, I will have to thank our chefs for this one. This only tastes good cold, so I wouldn't recommend trying to heat it up
I'm actually eating one of these as we speak. I'm watching my calorie intake, so I serve mine on reduced calorie multi-grain bread with a slice of extra sharp cheddar and some slices of raw onion. Delish-ous! A bit hard to find in the States, but most of the higher end grocery stores have them in their International Foods section. Smaller chunks are definitely easier to spread.
Directions
Place the cheese on bread or roll.
Spread bread or roll with as much pickle as you desire (has to be Brandeston to get the full effect) the more you add, the better the taste.
Put top piece of bread on.
Cut into a diagonal triangle.
Enjoy.