MsBindy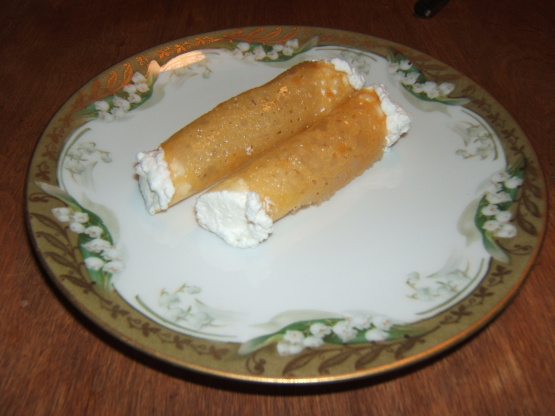 A classic and somewhat old-fashioned Australian dessert which, in 2005, you are unlikely to come across in Australian city restaurants. I was recently delighted to find them on the menu in an Australian country pub, somewhat off the beaten track and I am posting this recipe, for the 2005 Zaar World Tour, from the Australian publication by Reader's Digest of a book jam-packed with traditional Australian recipes: 'Family Recipe Scrapbook: tried and trusted recipes for today's cooks'.

Very simple recipe to put together! Great flavor! This was my first time attempting these special biscuits. I did make 2 small changes -- added a bit of lemon zest as well as the juice and added a few shakes of nutmeg. Everything else was as listed. I couldn't decide exactly how slim or large I wanted the delicate tubes. My husband, a New Zealand kiwi by birth has had Brandy Snaps before and said the size of the rolled wooden spoon was most authentic. I didn't have any problem with the cookies sticking as I lined the baking sheet with parchment paper and sprayed the paper as well. In hind sight, the cookies have plenty of butter in them and spraying the parchment wasn't necessary. My only problem was exactly how long to cook them. It seemed they continued cooking even after removed from the oven, so getting them just the right golden color was tough, but doable. Thanks so much for the great recipe!
Heat the butter, sugar, syrup, lemon juice and brandy gently together in a saucepan until the brandy melts and the butter melts and the sugar has dissolved. Remove the pan from the heat, mix in the flour and ginger and leave to cool.
Preheat the oven to 190ºC, line 2 baking trays with non-stick baking paper and place 6 teaspoons of the mixture, placed well apert on each. Bake for 8-10 minutes, or until lightly browned. To ensure enough time to roll the brandy snaps, put one tray into the oven 5 minutes before the other.
Remove the brandy snaps from the oven and cool on the baking tray for a few seconds, then lift the biscuits off with a palette knife and roll around wooden spoon handles. If they become too hard to roll, pop them back in the oven for a few seconds. When firm, remove from the spoon handles and cool on a wire rack. Repeat with the remaining mixture.
To fill the brandy snaps, spoon the cream into a piping bag fitted with a small star nozzle and pipe into each end of the biscuits.
Serve as soon as they are filled.