flower7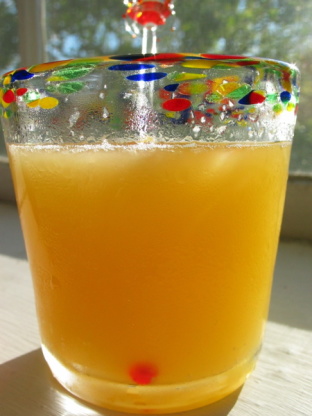 When I was little, my mom used to make this for company, especially in the summer. They never let me have any, and I was so jealous! Now I know what I was missing. Note - I had to guesstimate the yield - it makes an awful lot.

This is excellent! It reminds me of the Whiskey Slush my Aunt always makes at Christmas time. I used frozen lemonade concentrate and reduced the sugar by about 1/2 cup. A plastic gallon ice cream bucket made a perfect container. It took my freezer almost 24 hours to freeze the mixture into slushiness. This is a great cocktail! Thanks Cookie!
Freeze all ingredients together except the Sprite, stirring occasionally. My mom used one of those gallon ice cream buckets to make this.
Use 2 scoops in each glass (approx 1/2 cup, maybe more). Fill the glass with 7Up or Sprite.