Brandy and Spice Peach Preserves - Lisa Sizemore
HeyJami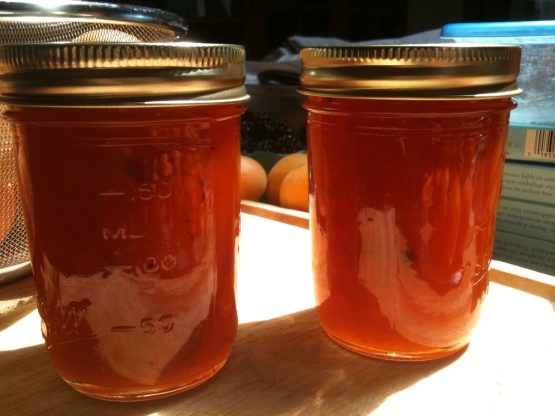 www.foodtv; Emeril's Scratch Contest

I made this with 11 cups of apricots instead of 20 peaches. I used french brandy. Overall, very nice flavor - sweet and rich. Would be great for a marinade or meat glaze. A little too cinnamon-y for our tastes so next time we'll put only 1 stick in. I had to come back with pectin to give it enough body/to get it more firm. I used Pomona's Universal Pectin. And, do NOT simmer jars for 10 mins - 10 mins in a boiling water bath is necessary to follow proper canning procedures. Thanks for the recipe!
In large heavy pot, combine peaches and sugar.
Place all spices in cheesecloth and drop into pot with peaches.
Add lemon peel and brandy.
Simmer, stirring occasionally, until fruit becomes transparent, approximately 1 and 1/2 hours.
Skim foam from top as needed.
Discard spices; ladle fruit into hot sterilized jars and seal at once.
Simmer jars for 10 minutes in water bath.