Luschka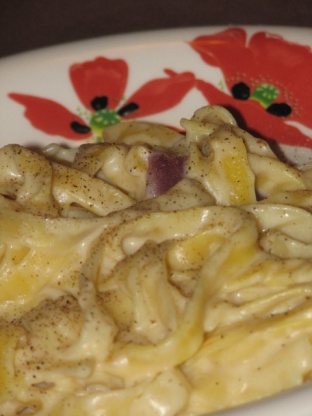 The brandy gives the sauce a little extra flavor, but it can be ommited. Light cream 1/2 and 1/2 or whole milk can be used in place of the heavy cream.

This was very nice, and simple enough to make. The bay leaf, onion and clove and the brandy make a very unusual and enjoyable flavour. We had this quite late at night, so I substituted the cream for low fat milk to make it a little lighter. Thanks for sharing
Melt butter in sauce pan.
Stir in the flour and let cook for 1-2 minutes over medium-low heat.
Chop garlic and add to roux (flour and butter mixture).
Whisk in the cream.
Pin the bay leave to the onion using the clove.
Place it in the cream and let steep (not simmer) for about 20 minutes.
Bring to a simmer then immidiatly remove from heat.
Stir in cheese,the juice of the lemon and the brandy.
Add salt and pepper to taste, be generous.