Brandied Raspberry Chicken
flower7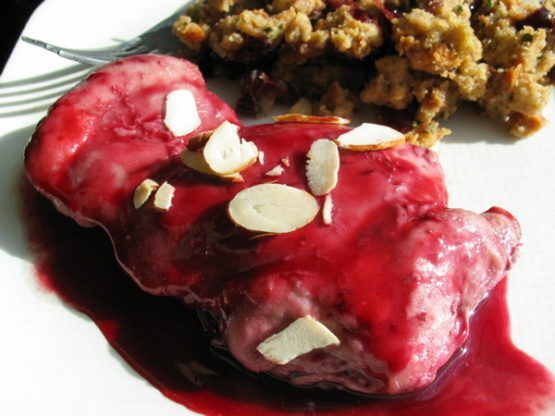 I have no idea where or how I got this. It has raspberries which are abundant in my yard so I may have come up with it myself.

Except for adding a bit more cornstarch & almond, I followed the recipe step by step, & the resulting chicken dish was REALLY, REALLY great ~ the taste of the raspberries here was very different for me, & was OUTSTANDING! Well worth keeping & making again! Many thanks to the Chef at Heart!
Sauce :.
Cook all ingredients but brandy and cornstarch for 1/2 hour.
Strain through sieve to eliminate raspberry seeds.
Pour back into sauce pan.
Blend cornstarch and brandy.
Add to mixture and cook until thickened.
You may add salt and pepper to taste at this point (personal preference).
Turn temperature to low or if necessary cover and remove from heat.
Brown chicken on both sides and then bake 10 minute in 350% oven or until juices run clear.
Serve with sauce drizzled over chicken. Sprinkle with toasted sliced almonds.
**there should be enough sauce depending on how much you like on your chicken to serve up to 8, however it definitely serves 6.
***I like to serve this with rice and place the extra sauce in a serving dish to pass around if anyone wants to put it on their rice. If doing this I would suggest you make it with 6 chicken breasts not 8.