Alia55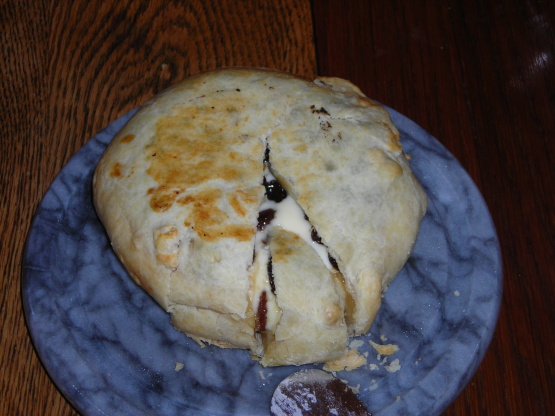 This is absolutely delicious. I'm not a huge fan of brie cheese, but I made this for my parents (who love the stuff) and even I liked it.
To make Pastry: Combine flour and salt in a bowl. Add 1 1/2 Tbsp melted butter and cut in till mixture is mealy and evenly distributed.
Pour in water and mix until dough becomes a soft ball.
Score top, wrap and chill for 20 minutes.
Roll out 1 1/3 cups of butter between two sheets of parchment or plastic until it is about a 3 by 5-inch rectangle. Chill for a few minutes.
On a lightly floured surface, roll out flour dough to a rectangle about 8 by 10-inch rectangle.
Place flattened butter in the centre of the dough and fold up edges of dough so that no butter is exposed.
Roll out gently to stretch the rectangle shape longer.
Fold pastry into thirds, one layer overlapping the other.
Wrap and chill for an hour.
Roll pastry again into a rectangle, about ½-inch thick. Fold long edges over so they meet in the middle and then fold again, just like a book.
Wrap and chill for an hour.
Repeat process again folding in three, and once more time folding in book fold, chilling for a while after each roll.
For filling, let raisins steep in 3 Tbsp brandy and orange zest for 20 minutes.
Roll out puff pastry to a circle about ¼-inch thick and sprinkle raisins in centre of pastry.
Mix remaining 1 Tbsp brandy with honey and brush over surface of brie.
Turn honey-side down over raisins and bring up edges of pastry to cover brie, trimming excess dough and using egg wash to seal.
Turn pastry parcel onto a parchment lined baking sheet and brush with egg wash.
Preheat oven to 425°F
Bake for 50 to 60 minutes, until pastry is a rich golden brown.
Let sit for 20 to 30 minutes.
Serve warm!