This is another recipe that is part of my recipe exchange program w/SusieQusie & is from the "1 of a Kind Cookbook" of the Junior League of Mobile, AL. SQ was so proud of herself for having undone a nearly lifelong dislike of sweet potatoes that she put this 1 on my agenda. Thx SQ!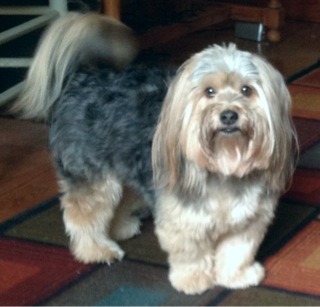 My goodness, who knew sweet potatoes could be so decadent! My canned peaches were sliced so I did mine a bit different but it sure didn't hurt the flavor at all. I only used about 1 teaspoon of butter and would eliminate entirely next time. You already get good fat oils from the walnuts. Didn't have an orange so I used a bit of orange extract. I put the mashed sweet potatoes on the bottom of a pammed pie dish and layered the sliced peaches on top in a circle. Sprinkled with a tiny bit of brown sugar splenda and the chopped walnuts. (see photo) A dish worthy of ANY company. Thanks for posting twissis.
1

(29 ounce) canned peach halves (drained & syrup reserved)

2

tablespoons butter (at room temp)
2 1⁄2 cups canned sweet potatoes (or yams in light syrup, drained, heated thru & mashed)

2

tablespoons brown sugar
1 1⁄2 teaspoons orange peel (grated)

2

tablespoons brandy (or peach brandy)
nuts (chopped, topping garnish)
brown sugar (topping garnish)
Drain peaches & arrange halves in a baking dish w/cut side up (To make more secure, cut a thin slice from the bottom).
Cream canned sweet potatoes & butter.
Add brown sugar, orange peel, salt & brandy (If needed, use reserved peach syrup to get a smooth consistency).
Spoon mixture into peach halves.
sprinkle w/chopped nuts + brown sugar
bake at 350°F (uncovered) for 15-20 minutes.