twissis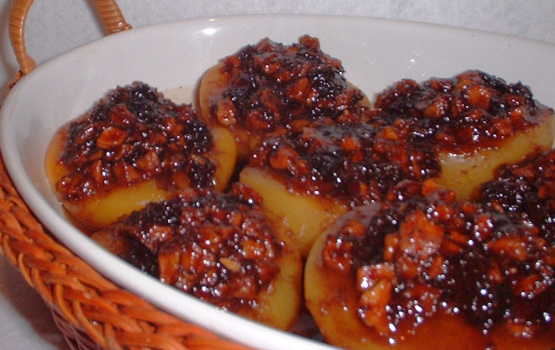 Great with chicken, turkey or roast pork

If you like mincemeat & want a tasty chg from the std mincemeat pie, this is both a good & easy recipe to try. The only box of mincemeat I found was a 9 oz size, but that wasn't a prob as there was a fair amt of extra mincemeat stuffing. The 24 oz can of peaches I bought had 7 peach halves & I think 1 half is a good serving size when combined w/a scoop of vanilla ice cream & some brandied peach syrup ladled over it. Mincemeat is distinctly flavored & the brandied syrup w/ice cream compliments it esp well & is definitely company worthy - lovely to look at & to eat. This was a PAC choice & a good 1 for us. Thx for posting this recipe.
1

(24 ounce) can peaches, halves

1

(12 ounce) box mincemeat

4

tablespoons brandy
1⁄4 cup toasted pecans (chopped) (optional)
Preheat oven to 350°F
Drain peaches, reserving 3/4 cup syrup.
Crumble mincemeat in a saucepan and add syrup.
Boil, stirring for 3-4 minutes or until thickened.
Add brandy and boil 1 minute longer.
Place peach halves in baking dish.
Spoon mince-meat mixture over peaches.
Bake 15 Minutes.
After removing from oven sprinkle with pecans if desired.